Per Diem Work - 3 Reasons Why You Should Give It A Try!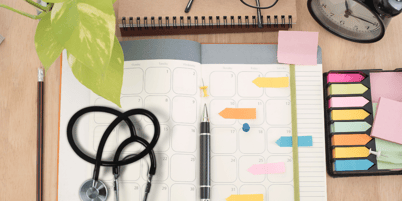 In the 1990's there was a popular McDonald's commercial that featured a group of adults, each looking drained and sluggish, repeating, "Get up, go to work, go home, go to bed", until they finally said, "Get up, go to work, GO TO MCDONALD'S", and they celebrated and cheered, before going back to their monotone chant. That commercial rings true for a lot of adults. We can admit that sometimes our work weeks become more about routine, than they are about our purpose. This often leaves us longing for more, or something to look forward to. For healthcare workers, it is all the more important for employees to get adequate rest and rejuvenation between shifts. While going to McDonalds might be an easy short-term choice, we have a better suggestion: Per Diem work!

What is Per Diem?
Per Diem is a Latin phrase that means, "Per Day". Rather than having a set schedule, Per Diem workers will select shifts that they are able to work, on as many days, or as few days as they would like. Goodbye monotonous routine work weeks!
Work-Life Balance
Per Diem work allows healthcare workers to arrange their work week around other obligations, or to accommodate their home-life, making it ideal for work-life balance. Offering a way for healthcare workers to truly reset when needed, and helping them to focus on the people they care for in their work. Hello purpose! Further, this type of work is typically offered through staffing agencies, like GigWorx, that are dedicated to providing consistent per diem opportunities. This means workers often find that not only can they work when they want, but they can maintain a consistent income simultaneously. With the onset of the COVID-19 Pandemic, per diem healthcare workers are needed more than ever to help cover staff vacancies.
A Doorway to Career Advancement
Along with work-life balance, per diem work prepares individuals for career advancement, often accelerating the time it takes to acquire skills with a traditionally permanent role. Since staffing agencies receive per diem work requests from several different healthcare organizations, each assignment offers a different environment, a different team, and varying job duties. This gives per diem workers the unique ability to gain new experience, learn how to adapt quickly, and learn different processes and systems. Within the healthcare industry, per diem workers can then take these skills into new employment opportunities. With more expertise of a wide variety of systems, per diem healthcare workers stand out from the resume pool, and once on the job, are able to jump in quickly, making them noticeable to hiring managers and leadership.
Earning Potential
If you're already employed, but looking for ways to earn some extra income, per diem healthcare jobs can be a great way to pick up extra hours. Many healthcare workers pick-up extra shifts when needed, or dedicate a full-time career to per diem work on its own. Per Diem workers are usually paid at higher rates than direct employees to make up for other benefits that may not be received, such as health insurance coverage. However, some staffing agencies do hire their per diem workers as W2 employees, and offer health benefits!

If per diem work is right for you, download the GigWorx app and check out the many job opportunities available.